Nuclear Medicine
Nuclear Medicine is a dynamic and progressive medical imaging modality, used to diagnose and treat pathologies in a safe and painless environment.
Check out this video to see what X-Ray & Imaging's Nuclear Medicine services are all about.
Frequently Asked Questions
What is Nuclear Medicine?
Nuclear Medicine is the process of small amounts of radiation that are injected, inhaled or ingested to target a specific organ and demonstrate its function on a molecular level. Nuclear Medicine can differ to other radiological procedures as it can often identify physiological changes and progression of disease before anatomical changes occur.
What is Nuclear Medicine Technologist?
A Nuclear Medicine Technologist is a specifically trained healthcare professional in the field of Nuclear Medicine. The technologist looking after you will give you your injection, perform your scan and process your images to show the specialist Doctor.
Is Nuclear Medicine safe?
Nuclear Medicine has been a medical profession for over 60 years and to date, there are no studies showing long term effects of low dose exposure from diagnostic Nuclear Medicine imaging. Queensland state and Australian legislation ensure all administered doses are of a safe level to patients and the public.
In most Nuclear Medicine procedures the injection administered will decay away and will be excreted via the urinary system over the following 4-48 hours after your injection.
Is the Nuclear Medicine procedure painful?
Depending on the type of procedure you are having, you may be required to have an injection through a small needle or cannula. This may sting for a short moment, but no more than a blood test. The scan is not painful at all. In most scans, you are required to lie on the bed and relax whilst the camera is imaging your body.
Nuclear Medicine Staff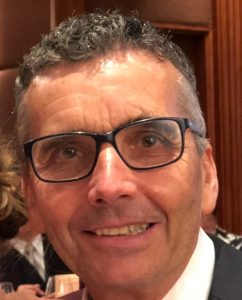 Peter Borham
Peter has extensive experience in nuclear medicine in both the public and private sectors. He was instrumental in establishing and operating nuclear medicine services on the Sunshine Coast and the Wide Bay region over the last 25 years. Prior to moving to Queensland he was the Chief Technologist at the Royal Prince Alfred and John Hunter Hospitals in NSW and lectured in nuclear medicine technology at the University of Newcastle. Peter enjoys playing golf and tennis in his spare time.
Dr Kevin Lee
Dr Kevin Lee is an Australian trained Specialist Physician in Endocrinology/Diabetes and Nuclear Medicine.
Dr Lee underwent undergraduate medical training in Sydney, completing post-graduate training throughout Queensland. He has a Masters of Health Studies in Clinical Epidemiology and is a Fellow of the Royal Australasian College of Physicians. He is an associate senior clinical lecturer with the University of Queensland and a registrar supervisor with the College.
He is an advocate for patient-centric care. He has a special interest in osteoporosis, cardiometabolic disorders, obesity, thyroid and lipidology. He has given talks internationally and nationally in topics of endocrinology and molecular imaging.
Learn more about X-Ray & Imaging and their services here www.xrayimaging.com.au